Redondo's PowellsWood Garden, in collaboration with local storytelling guilds, hosts its fourth annual Storytelling Festival July 24th and 25th with five national storytellers on hand to share personal and folk tales. The festival includes fun for all ages with workshops for adults, a free program for children's groups on Friday, and a full day of storytelling concerts on Saturday.
In an era when quick blurbs on social media are the norm for communicating one's identity to the world, it is refreshing to hear a well-crafted personal story. Previous visitor Rebecca Chamberlain summed up her feelings about the festival this way: "Between the natural world, and the human imagination, we entered a timelessness… and experienced what 'spellbound' means."
This year's teller lineup is chock full of spellbinding entertainment. Mime Antonio Rocha uses movement to help unlock our imaginations. Motoko brings Asian folktales to life with humor, charm and elegance. Playwright, commentator, and storyteller Kevin Kling shares his "can do" attitude through personal stories of overcoming adversity. Self-described "Affrilachian" teller Lyn Ford tells folk and personal tales rooted in her multicultural heritage.  Donald Davis, a true southern gentleman known for his bow ties and hilarious personal stories, will charm audiences of all ages.
The Festival's Friday workshops are open to anyone with an interest in storytelling, and are especially useful for those who use stories in their life or work. Workshops begin at 9:00 am and end at 3:30. Friday's events conclude with conversation and sweets at Tea with the Tellers, an afternoon social for workshop participants and tellers.
Saturday telling begins concurrently at each festival tent at 10:00 a.m.; gates open at 9:00 for check-in, garden exploration, and resources, coffee, and food purchases. Tellers move from tent to tent throughout the day giving all visitors a chance to hear all tellers, but visitors may also follow their favorite teller if desired. If one has limited time, the Closing Concert from 3:45 to 5:00 features all of the tellers.
Advance registration is required for all Friday events; workshop pricing varies—see the festival website http://powellswoodfestival.org/ for registration and pricing.
As an added bonus, day care programs, homeschool groups, and day campers are welcome to attend the festival free of charge as a part of the children's programs on Friday. Participants will hear three tellers and receive a short tour of the garden in this one-hour program.  Four time slots are available; to book contact Kristine at [email protected] or by phone at 253-529-1620.
Saturday tickets may be ordered in advance via the festival website or be purchased at the gate; adult tickets are $20.00, children (12 and under) are $5.00 and a family pass is $40.00.
Friday lunch for workshop attendees is catered by Panera and can be pre-ordered with tickets. For those who wish to enjoy lunch in the garden on Saturday, options include catered sandwiches, salads, chips and cookies, coffee and espresso drinks, and hand crafted ice cream by Ice Cream Social. Visitors are also welcome to bring their own lunch.
The festival is held at PowellsWood Garden located at 430 South Dash Point Road in Federal Way. Festival parking will be accommodated at Sacajawea Park at 1401 S. Dash Point Road.  Please catch the festival shuttles, which run continuously starting at 8:45, for transportation to the garden. There is no parking at the garden during the festival except for handicapped vehicles.
Online Ticketing at http://www.brownpapertickets.com/event/920053.
New garden spaces make it possible for PowellsWood to expand offerings at their annual Mother's Day weekend event. Each year Monte and Diane Powell offer up a taste of English Garden-inspired hospitality during their Mother's Day open days, and this year is no exception with guest speakers, a book signing, tea, tours, and music.
If you haven't seen the revamped garden since it reopened two years ago, you really should take the opportunity. It's stunning.
Mother's Day weekend hours are 10:00 – 5:00 both Saturday May 9th and Sunday May 10th. Entrance is $5.00, free for children under 12.
The garden is located on the upper edge of Redondo in the Cold Creek watershed. Visitors are requested to take the shuttle from Sacajawea Park, just east of the garden, at 1401 S. Dash Point Road. On-site parking is limited to handicapped vehicle parking only. Though the garden has just added a new parking area for normal operating hours, neighbors appreciate visitors not parking on local streets for special garden events.
PowellsWood has released the full weekend event schedule as follows.
Saturday only:
Angie Narus author of Walking Washington's Gardens will be signing copies of her book in the Spring Garden from 10:30 am.-1:30 pm.
Elizabeth Kroker, reigning Pierce County Beekeeping Association Honey Queen, will speak on bee keeping in the Woodland Garden at 11:00 am. PCBA members will also be on hand with educational materials.
Bluegrass musicians WB Reid and Bonnie Zahnow return to delight audiences with their lively tunes on the House Garden Patio from 1:00 – 3:00 pm.
Sunday only:
Gardener extraordinaire Marianne Binetti will share "What Mama Never Told You – Tips, Tricks and Dirt Cheap Ideas for your Garden" in the Woodland Garden at 1:30 pm.
Harpist Deborah McClellan will play from 1:00 to 3:00 pm in the Garden Room.
Both days:
Tea hosted by Diane Powell in the Garden Room from 11:00 am. – 4:00 pm. Menu and pricing available at the PowellsWood website:
http://powellswood.org/category/events/
Local artist Chris Stiles displays his unique prints and cards, which are available for purchase in the Upper House Garden.
Garden tours beginning every hour on the half hour in the Entry Garden. Tours include bits of garden history, maintenance tips, and plant identification.
The Bulldog community will honor the past, present, and future with a dance- and music-filled evening on Saturday, March 21.
In 1915, the United States was on the brink of entering World War I, the 47th and 48th states had just been admitted to the Union, and automobiles were slowly becoming available for wealthier citizens.
In Tukwila, something just as groundbreaking occurred: Foster High School issued its first-ever diploma to student Ava Sophia Adams (right), setting in motion 100 years of exceptional Bulldog graduates following in her footsteps.
Many of those alumni—spanning almost every decade, including two from the Class of 1937—as well as current and former staff and community members will gather at the school this Saturday for a centennial celebration featuring food, dancing, socializing, and plenty of good memories.
Anyone with an interest or affiliation with Foster High—past, present, or future—is enthusiastically invited!
Members of the centennial planning committee last summer tracked down
Ms. Adams' family in Montana and brought back her original diploma (pictured at right); that artifact will be on display, and a reenactment of the first commencement ceremony will kick off the official ceremony.
The rest will be a musical tribute to the past, present, and future of the school, including a rollicking dancing-through-the-decades look back at the school's seminal events featuring alumni musicians.
Current students will take the stage for vibrant cultural performances, including singing and dancing from Foster's Pacific Islander, Burmese, and Hip Hop Clubs.
Over the past century, Foster has transitioned from a simple building in a Northwest settlement area to the sole high school in the nation's most diverse school district. Throughout these significant changes, the most important character of Foster has never wavered: This school remains the heart of the Tukwila community.
"We are all proud Bulldogs, and that's what matters," said Ron Lamb, class of 1966, member of the planning committee. "We are coming together to celebrate the story of Foster High School and what we have accomplished—past, present, and future."
Foster High School Community Centennial Celebration details:
Saturday, March 21, at Foster High School, 4242 S. 144th St., Tukwila
Doors open at 3 p.m. with an open house featuring tours, an ongoing historical slideshow, a display of artifacts, and socializing. Dinner and refreshments will be available at about 3:30 p.m. The official program will begin at 6 p.m. Following, the gym will open for a sock hop ending at 10 p.m.
Foster centennial spirit wear will be available for purchase.
by Greg Wright
Diane Ferlatte, the National Storytelling Network's Circle of Excellence Award winner, will be a featured "teller" at this year's PowellsWood Storytelling Festival.
The first day of the festival, which runs July 18-19 this year at PowellsWood in Federal Way, storytellers engage registered attendees with workshops designed to turn everyday people into tellers of their own stories.
The second day, it's all telling, all the time at key locations throughout the 3-acre garden. This year's tellers include Donald Davis, Angela Lloyd, Barbara McBride-Smith, Ed Stivender—and Diane Ferlatte.
I had the opportunity to chat the other day with Ferlatte, fresh from her appearance at the Sydney International Storytelling Conference in Australia.
I understand you were raised in Louisiana. That's ripe storytelling country. Were you born there?
Diane Ferlatte: I was born in New Orleans and migrated with my parents and two brothers to Oakland, CA when I was nine years old.
Can you recall the first time you were captivated by oral storytelling?
DF: We used to joke that my father had a motor mouth. Both he and my grandparents could really spin yarns on the porch in Louisiana, but I was too young to really appreciate it at the time.
When did you become inspired to start telling stories yourself?
DF: After we adopted our second child, I discovered that he was a TV brain. I had been reading stories to his younger sister but he wasn't interested. I had to find a way to get him to sit and listen instead of watching TV. So I not only read in a more dramatic way but soon began to tell stories instead of just reading to them. When I was asked to tell stories at a church function, I was hooked. The first professional teller who had a big impact on me was Jackie Torrence.
You spent some time in Georgia's Sea Islands collecting stories. How did that come about?
DF: I was interested in the Gullah culture and wanted to collect some of their folktales. Problem was, on Sapelo Island's Hog Hammock community which I visited, the primary storyteller was long in the tooth and couldn't remember much. So I interviewed and spent time with many of the remaining inhabitants left in that small community whose families had been there for generations since slavery. As a consequence, I developed a show around their various personal stories.
Do stories generally come to you, or do you search them out?
DF: Some stories come to me through personal experiences or through friends, but I do research on historical stories and folktales.
Your scheduled workshop at the PowellsWood Festival this year is titled, "Bringing Stories to Life." Why is it important for everyday people to learn how to "tell their story," as opposed to simply passing along facts about who they are?
DF: It is first and foremost important that we talk with one another. Passing along facts is better than nothing, but when we share stories we get a much clearer and meaningful idea of each other. We also are able to relate in a more emotional way to the other person through their stories. In addition, stories are just more interesting.
So is it about more than just leaving a legacy of sorts? Is it also about the "how" of living out our own stories, day by day?
DF: Sometimes we think there isn't anything interesting about us that we can share, but we all are interesting in different ways, and we all have stories to share.
I hope your experience at PowellsWood this year gives you more stories to tell!
DF: I hope so too, and thank you very much.
For complete Festival schedule information, visit powellswoodfestival.com
PowellsWood: A Northwest Garden
430 South Dash Point Road
Price $15 and up; children's and family rates available
Online Ticketing at http://www.brownpapertickets.com/event/531089
by Greg Wright
The PowellsWood Storytelling Festival "is like a little pearl," enthuses storyteller Syd Lieberman.
The two-day festival, which runs July 18-19 this year at PowellsWood in Federal Way, is decidedly unique.
The first day of the festival, storytellers engage registered guests with workshops designed to turn everyday people into tellers of their own stories. Full-pass participants even get a chance at "Tea with the Tellers" on PowellsWood's fabled Garden Room Terrace.
The second day, it's all telling, all the time, with special secret spots in the 3-acre garden set up with tents featuring storytelling tracks for adults, families, and children. This year's tellers include Donald Davis, Diane Ferlatte, Angela Lloyd, Barbara McBride-Smith, and Ed Stivender.
"I haven't been to anything like this," says Lieberman. That's quite a testimony from the man who's a regular feature at internationally-renowned festivals like Timpanogos and the National Festival in Jonesborough. "It's this little special thing in the woods that you come upon and you find," he continues. "It's wonderful that way. 'Wow! I'm telling in this beautiful setting!'"
It's magical by design, a "fairy tale come true," to use the words of the Federal Way Mirror.
"Our belief is that people come away from the Festival happier, more joyful," says garden founder and Festival organizer Monte Powell. "And maybe revitalized—from being here at the Festival, and also from doing the Festival in a beautiful, green environment."
And make no mistake. The garden setting offers a one-of-a-kind experience. "Telling a story in a garden like this definitely makes a difference," attests Indian storyteller Jeeva Raghunath, who also appeared at last year's festival.
"I've told stories in the classroom," she notes. "I've told stories in the auditorium. I've told stories by the sea. But this is very different, the reason being that it's very identical: the gardener and the storyteller. Both of them do it with a lot of soul. And stories are not from head to head. It's from heart to heart. So every story has soul. It has life."
Festival anchor and master teller Donald Davis has the heart of it.
"I love trees," says Davis. "They are listeners."
Visit the PowellsWood Storytelling Festival this year and listen. Listen with the trees.
Listen, and grow.
PowellsWood is located at 430 South Dash Point Road in Federal Way. For complete schedule and parking information, visit powellswoodfestival.com. Price $15 and up; children's and family rates available. Online Ticketing at http://www.brownpapertickets.com/event/531089.
July 18-19, 2014
PowellsWood: A Northwest Garden plays host to this annual 2-day festival of the art of storytelling.
The first day, internationally-renowned storytellers engage registered guests with workshops designed to turn everyday people into tellers of their own stories. Full-pass participants even get a chance at "Tea With the Tellers" on PowellsWood's fabled Garden Room Terrace.
The second day, it's all telling, all the time, with special secret spots in the 3-acre garden set up with tents featuring storytelling tracks for adults, families, and children.
For complete schedule information, visit powellswoodfestival.com
Phone (253) 529-1620
Price $5 – $125
A great garden brings people together; visit PowellsWood Garden this Mother's Day weekend, May 10-11, 2014 from 10:00 a.m. to 5:00 p.m. with your mother or child and share the magic of this remarkable garden.
Entrance is $5.00 for adults and children under 12 are free.
Together explore the updated grounds and garden features via a new self-guided tour. Relax and visit in the Garden Room where tea, scones, lemonade, and cookies will be available for purchase from 10 a.m. to 4 p.m.
Musical entertainment will be available both days as well!
by Greg Wright
Storytelling has become a worldwide phenomenon. The Puget Sound's newest annual festival, hosted at PowellsWood Garden on the upper edge of the Redondo greenbelt, is expanding this year to include a global-village emphasis. Tamil storyteller Jeeva Raghunath, based in Chennai, India, will be headlining the PowellsWood Storytelling Festival, now in its second year.
The festival runs July 26 and 27th and features a day of workshops in addition to a full day of storytelling.
One of the garden's four storytelling venues, the spectacular and newly redesigned Perennial Borders, will feature a daylong program with an international focus titled, "Lively World Folktales for All Ages."
Raghunath (right) will be contributing along with Heather Forest and internationally-renowned local teller Margaret Read MacDonald. Festival newcomer Syd Lieberman will also co-host a session in the Spring Garden titled, "Traditions: Tamil, Jewish, Borneo."
In addition, Donald Davis will share evocative tales from his North Carolina childhood, and Heather Forest will delight with her singing fables and with stories of her life as a gardener.
Now in its second year, the PowellsWood Storytelling Festival was inspired by PowellsWood owner Monte Powell's annual visits to the National Storytelling Festival in Jonesborough, Tennessee. When Powell discovered that MacDonald had moved almost literally into his own backyard, creative sparks flew—and the Festival was born.
The Festival's first edition in 2012 was a wild success, featured in a national network broadcast on CBS Sunday Morning. The Festival was anchored by Jonesborough regular Donald David, who is back again for the 2013 edition.
Raghunath is particularly excited to be participating in a Pacific Rim festival. She has represented India at 17 international storytelling festivals around the globe, training over 25,000 children and adults in the art of "telling." Having conducted over 500 performances, Raghunath has also translated 45 books into Tamil from English. Her storytelling style leaves audiences spell-bound. She believes that she herself is the best prop for her storytelling.
Tickets to the event range from $10 full-day passes for the Saturday storytelling sessions to two-day passes priced at $120, which also include Friday workshops with Donald Davis and Syd Lieberman. Children's and family rates are also available.
Learn more about the Festival at PowellsWoodFestival.com… and check out the CBS News report (below) that featured the 2012 PowellsWood Storytelling Festival.
by Greg Wright
Earlier this summer, Monte Powell's garden in Federal Way played host to a new regional storytelling festival… the PowellsWood Storytelling Festival. Curated by Des Moines resident Margaret Read MacDonald, a Huntington Park retiree from the King County Library System, the festival drew hundreds of visitors in its first year.
It also drew the attention of CBS producers, who came to Federal Way to observe and speak with featured "teller" Donald Davis, an artist of international reputation–like MacDonald herself. The segment aired last week on CBS (see below) and is
described as follows
:
Whether it's Mother Goose, the tales of the Brothers Grimm, even the parables of Christ, you might say the human mind is hard-wired to respond to stories. In fact storytelling may be the oldest art form.

Correspondent Serena Altschul explores our oral tradition at those Woodstocks of words, storytelling festivals – there are dozens of such fests to be found around the country. We visited one of the newest, the PowellsWood Storytelling Festival, just outside of Seattle.
Plans are naturally already in the works for the 2013 edition of the Festival, though dates and schedules have not officially been announced yet. We'll naturally bring you news as it breaks. This is one of those events to plan your entire summer around!
Learn more about the Festival at PowellsWoodFestival.com.
by Greg Wright
Over 340 guests showed up at PowellsWood Garden on Dash Point Road July 14 to sample some seventeen total hours of storytelling from ten different storytellers, and everyone seemed delighted with the variety of remarkable storytelling they experienced. Something for all ages, and every taste.
Federal Way Mirror journalist Andy Hobbs described the festival as a fairy tale come true, "an opportunity for Federal Way to sample culture and nature, right here at home. PowellsWood gave people across the region a good reason to visit and play. Most importantly, the festival nourished the community's lifeblood."
On Friday, July 13, around 450 daycamp children and leaders also tromped into the gardens to sit in the shade of an awning (one hundred at a time) and listen to three tellers wow them with tales.
The term most used by adults and children alike was… magical!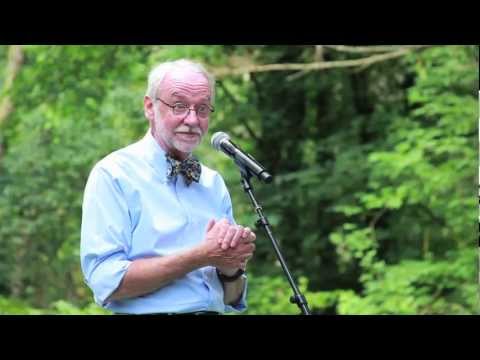 The organizers expect this to become an annual event. Follow the website for updates.