Truck Dumps Frozen Fish Into Duwamish Wednesday, Causing Major Flap
Print This Post
The Washington State Department of Transportation is reporting that a semi-tractor trailer truck went over the roadway and dumped its load of frozen fish into the Duwamish River, near the intersection of SR-99 and SR-509 in Tukwila Wednesday evening, Dec. 7.
The state Department of Ecology, Washington State Patrol and Tukwila Fire Department responded to the incident.
The trucking company has hired a private cleanup contractor to remove the truck from the river.
Here's the DOT's traffic webcam of the scene (refresh the page to see the most recent image):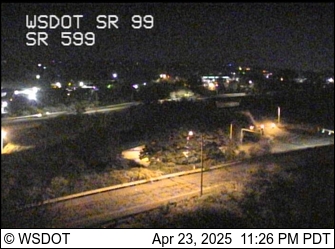 Print This Post